International Healthcare Exhibition – 2019
26 - 28 JULY 2019, BMICH - 9.00 A.M to 9 P.M
Health Exhibition 2019 - Catalog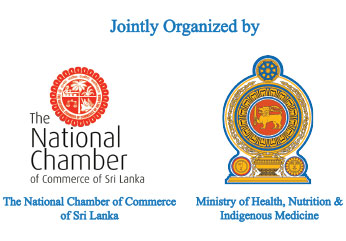 International Healthcare Exhibition – 2019
Ayurveda-Expo (Indigenous Medicine) & Arogya (Western Medicine)
15th consecutive year, The mega International Exhibition and Public Health Awareness Programmes are organized by the National Chamber of Commerce of Sri Lanka in partnership with the Ministry of Health, Nutrition and Indigenous Medicine and other Government Institutions to showcase the high standards of healthcare in Sri Lanka and the future potential that the industry can offer both locally and internationally.

Standard Setup
Standard Booth, One Table,
Two Chairs, One Plug Base (5Amp),
Two Spot Lights, Name Board

Extra Accessories
Exhibitors can order extra items of
furniture / accessories from organizers
subject to cost involvement.

Public Health Awareness Programme
resentations and discussions on special topics related to Indigenous and Western Medical sectors, such as educating the public on communicable and non-communicable diseases etc.
6.926895
79.860904
National Chamber of Commerce of Sri Lanka
450, McCallum Rd,
Colombo 10.
#0473ff